Tanzania Roadside Expeditions has designed Classic Safari packages that are 7 days, 8 days, 10 days and 14 days in length. All of the classic safaris focus on the Serengeti region in northwestern Tanzania. You may be interested in seeing the Big Five Safari (rhino, elephant, buffalo, lion, leopard) living in Serengeti National Park, Tarangire National Park, and Lake Manyara National Park. There is a tremendous demand to see the Big 5 as they are rare and difficult to locate. When you see them, you will be startled by their beauty and majesty in the wild. They are such a prize to find that hunters would often hunt them to near extinction, as they are considered unique trophies. Because of their unusual behaviors and hunting habits, they are fascinating to watch as they survive in their natural habitats.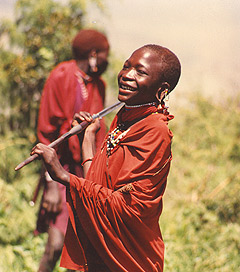 See animals and cultures
Classic safaris also include cultural visits to remote traditional tribal peoples including the Maasai, Hadzabe, Datoga, and Sanjo.
Other safari packages that include many of the highlights of a Classic Safari are the low-key and slower paced Honeymoon Safari and Tranquil Safaris. For those who like to rough it a bit, the Camping Safaris include many features of the Classic Safari as Camping Safaris as do the Short Safaris as all take place in the Serengeti. Classic Safaris include many features found in Family Safaris which blend activities for all generations, wildlife game viewing, cultural experiences and recreational activities.