The Gourmet and Wine Safari is special kind of safari designed to give our guests the opportunity of tasting and drinking exceptional foods and wine. It is a mellow experience and involves a few hours of driving and luxury accommodations. It is a relaxing safari. This can be a short vacation for our guests.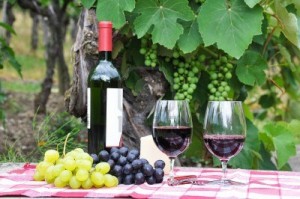 You can also incorporate the Gourmet and Wine Safari into a 7 day safari such as he following safari.
Note
On this safari, you will have the opportunity to eat many varieties of local tropical food, BBQ etc plus drink many types of wines from all over the world. It is an amazing fascinating Africa adventure safari!
Sample Itinerary
Day 1
Guests arriving at Kilimanjaro International airport (JRO) will meet the Tanzania Roadside Expeditions representative who will brief and transfer guests to the hotel for dinner and overnight in Arusha.
Accommodation: Arusha coffee lodge
Day 2
After breakfast we drive a few hours to Lake Manyara for game viewing and watching flamingos around the lake. Manyara National Park is well known for its tree climbing lions, herds of buffalos and elephants, hippos the wallow along the lake's shoreline and overhead view of millions of diverse species of birds. In late afternoon, we drive to Karatu for dinner and overnight.
Accommodation: Gibbs farm lodge.
Day 3
After breakfast, we drive to the Serengeti via the Ngorongoro Highlands. We stop for a scenic and awesome crater view for great photos. We continue our drive to Olduvai Gorge the site of Mary and Louis Leakey's discovery of the first upright human beings and the 3 million year old human footprint. You will receive a lecture about the archeological site, visit its museum and drive to Serengeti National Park.
Accommodation: Serena lodges
Day 4
After breakfast, we begin a full day of game viewing on the Serengeti's endless plains. Serengeti is famous for the Great Migration of wildebeests, the "Big Seven" that includes the: lion, leopard, elephant, buffalo, cheetah, rhino and African hunting dog.
Accommodation: Serena lodges
Day 5
After breakfast, we have a half day tour to explore the malt habitat of plains, rivers, ponds, lakes, kopjes and woodland. We return back to the hotel for lunch, pack and drive to the Ngorongoro Highlands or Karatu for dinner overnight.
Accommodation: Ngorongoro farm House or Gibbs Farm
Day 6
After breakfast, we descend into the Ngorongoro Crater floor for the full day tour inside the crater. Ngorongoro Crater is a 100 square mile collapsed volcano with a rich abundance of wildlife. It has more than 30,000 large animals who live within it. In the evening, we return to our hotel for dinner and overnight.
Accommodation: Ngorongoro farm House or Gibbs Farm
Day 7
We drive to Arusha for souvenir shopping, lunch and transfer to the hotel day room use prior to the early dinner and transfer to the airport to fly back home.
Day use room: Arusha Coffee Lodge/ Arumeru River Lodge
Included
Full board bases accommodations at the lodges during your safari. Private transport (with no mile / kilometer restriction) in a 4×4 vehicle with roof hatches will be provided along with VHF radio, a GSM contact with our base in Arusha , an English speaking driver/guide, park entry fees, crater fee, Olduvai Gorge entry fee, wines and other soft drinks including the mineral water.
Note
We do not have control over government taxes (park fees and airport taxes). We will try our best to keep the accommodation as mentioned but in case of over booking, we will provide a different accommodation of the same quality.
Not included
Tips, drinks, personal expenses, travel insurance, airport taxes, visas and international airline ticket.