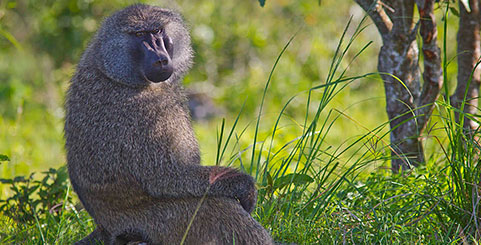 Location
Arusha is located in northern Tanzania surrounded by some of the most beautiful, famous, unique, and exotic landscapes in all of Africa. Arusha is situated below Mt Meru, and is in-between Mt Kilimanjaro an hour to its east and the Serengeti, Great Rift Valley, Ngorongoro Crater, Lake Manyara, and Tarangire national parks, 4 hours to its west. Nairobi-Kenya is 4 hours directly to its north by land connected by the well paved Nairobi-Arusha highway. Referred to as the "Gateway to the Serengeti," it is popular staging point for wildlife, cultural, photo safaris, and climbers wanting to trek up Mt. Kilimanjaro and Mt Meru. Arusha is conveniently located near 2 airports: Kilimanjaro International Airport (JRO) 45 minutes to its east and Arusha Airport (ARK) 15 minutes from Arusha's town center used for domestic flights. All safaris heading west pass through Arusha.
Climate and Culture
Though near the equator, Arusha's elevation of 4,000 ft and location below the slopes of Mount Meru makes its temperatures mild with little humidity year-round. Arusha has a growing population of 800,000 people. It is a multicultural city whose majority population is African and includes a significant Arab and Indian population. It's lively, colorful, and vibrant markets are welcoming.
Commerce and Industry
Tourism is a major contributor to Arusha's economy which is the second largest contributor of income in Tanzania. Agriculture is its primary industry, producing high quantity and quality vegetables and coffee that are sold in Europe. It has several factories that produce large quantities of pharmaceuticals, gem-quality Tanzanite minerals, and other minerals extracted from its mines nearby. Arusha has many banks, ATM machines, shops, and several markets.
Main Attraction in Area
Arusha National Park: Game Viewing, day hikes, explore waterfalls, and canoeing; Visit Lake Duluti ; Tour downtown and visit colorful markets